Siege of Orgrimmar

Immerseus
The Fallen Protectors
Norushen
Sha of Pride
Galakras
Iron Juggernaut
Kor'kron Dark Shaman
General Nazgrim
Malkorok
Spoils of Pandaria
Thok the Bloodthirsty
Siegecrafter Blackfuse
Paragons of the Klaxxi
Garrosh Hellscream

Throne of Thunder

Jin'rokh the Breaker
Horridon
Council of Elders
Tortos
Megaera
Ji-Kun
Durumu the Forgotten
Primordius
Dark Animus
Iron Qon
Twin Consorts
Lei Shen
Ra-den
Paladin
Medium
Retribution
We finally pushed Thok the Bloodthirsty over last night. This was definitely the first fight that posed a significant challenge thus far this tier. It's a strange fight, because it really wasn't all that complicated from a mechanics point of view. Aside from the interrupts being incredibly annoying and the extremely "buggy" nature of him eating people when he turns.
We had quite a few deaths to him turning too quickly while chasing someone down. For whatever reason, his tail would one shot someone as he turned. It eventually ended up becoming our running joke for the melee who got swallowed left and right by his butt-hole.
Either way, we all managed to man up to his butt-hole and jab him with enough pokes to the side of his leg to make him fall over. Congratulations to everyone on their achievement, the progression, and any new shiny loot that was distributed.
We'll be moving on to Siegecrafter Blackfuse <Destroyer of Guilds> on Sunday and more permanently next week. Siegecrafter is certainly no laughing matter either. It looks to be the first  real "wall" boss in this tier and I'm sure has and will continue to be the destroy of guilds.  We're looking forward to the challenge.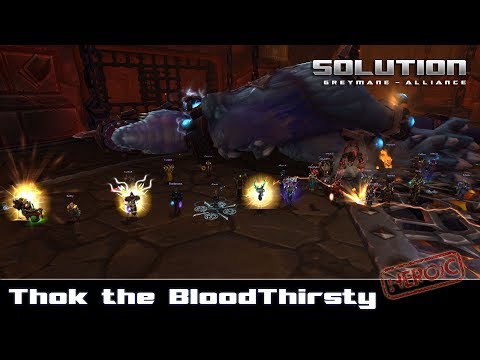 A Warm Welcome
We'd like to give a warm welcome to our newest recruits as well. Welcome to Aispera and Hatokie. We're all looking forward to killing these last few bosses with you guys in this tier and moving on to 6.0 with you. Here's to many more kills among friends!
The Lighter Side of Things
We dubbed Misanth our "Hero of the kill". Mostly because he was the last one to be tracked down by Thok during our kill, but also for being so amazingly pro at eluding Thok's butt-hole on numerous occasions. This one's for you Misanth!
And a few other butt-hole survivors that wanted to get in on the sweet sweet picture action: Tikiman, Fuzzball, Mystidruid, and Caffino. Well done to you guys for chasing his stank around the room!
Adventure's In Random Raid Chat
It's always nice to get some random raid chat to lighten up things during progression …
"Baiting" became a term for specific characters with reliable speed boosts to attempt to persuade Thok to chase them rather than a "slower" class. This could be accomplished by certain people (classes) maintaining a specific distance from Thok and pushing the "slower" characters (classes) closer to Thok. Which, inevitably, led to the joke …
 In Closing
My lord, that's quite the head you have there! And, yes, that's what she said …
Thanks for watching!
Read More